NEW KIT FROM KINGSWAY MODEL
The following news has been received from Kingsway Models:
New from Kingsway Models is a 1/76 scale model of First Edinburgh's Musselburgh Depot (kit code SMW), the first Scottish kit in the range. The model measures approximately 17" wide by 7" deep, and is priced at £14 incl. UK postage, and available now.
Photograph 1 CLICK HERE
Photograph 2 CLICK HERE
PRESS RELEASE FROM AMBERLEY PUBLISHING
The following Press release has been received from Amberley Publishing, regarding a newly published book:
The Other Midland Reds
BMMO Buses Sold to Other Operators 1924-40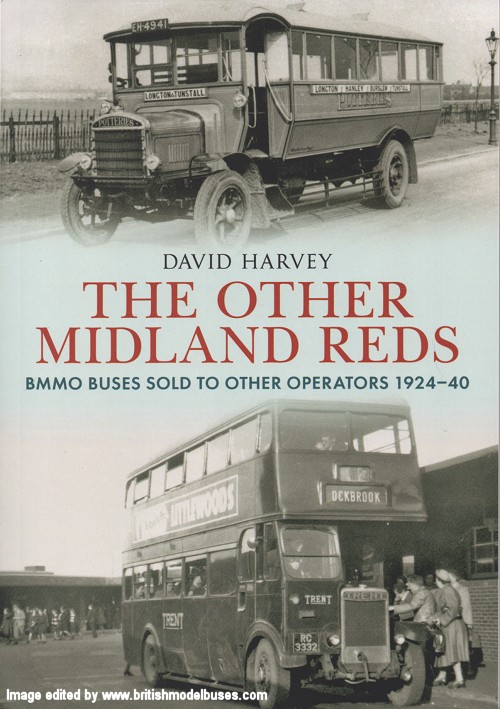 Author: DAVID HARVEY
The Birmingham & Midland Motor Omnibus Company began to operate motor buses in the Birmingham and Black Country area in 1912, radiating their services out as far as Leicester. By the I 920s they were building their own buses and SOS was born, standing for 'Shire's Own Specification', named after Midland Red's Chief Engineer. The advantage of this was that the company could design exactly what it wanted, without having to compromise by adopting a vehicle from an outside manufacturer. These new single deckers, inspired by American designs, were responsible for the closure of many tramways.
An important by-product of this decision to manufacture their own buses was that the company could manufacture for other BET Group operators such as the Northern General group, Potteries Motor Traction and Trent Motor Traction. For these and others, the company built many SOS buses, the fleets being seen all over England and Wales. David Harvey tells the story of the SOS buses, of which five have survived in preservation.
• Close to 200 images, many previously unpublished.
• The latest title in Amberley Publishing's extensive transport range.
• The Author David Harvey writes with authority on buses and coaches originating from Birmingham; he owns an Ex Birmingham double decker. David is a well- respected author who has written extensively for Classic Bus magazine and has had many previous titles published.
For further information contact Amberley Publishing on 01453 847800 or visit their website www.amberley-books.com
Monday 26th November 2012