CORGI OOC OM46310 LONDON TRANSPORT - ROUTEMASTER (PRE-PRODUCTION PHOTOGRAPHS)
Corgi have released the following text and two pre-production photographs regarding their 60th Anniversary Routemaster model:
Corgi are commemorating their 60th anniversary year by producing a series of specifically selected models which will be presented in distinctive blue and yellow anniversary packaging and will be made available at extremely attractive prices. Some of these models have already started to appear in pre-production form and we thought you might like to see one of them.
The Routemaster bus was designed and built in London by AEC and Park Royal Vehicles and were specifically constructed for London Transport use. Although conventional in appearance, the design was technically sophisticated, featuring innovative construction techniques, braking systems and semi-automatic transmission. Featured on tourist souvenirs at outlets all around London, the traditional red Routemaster is one of the most famous images of Britainís capital and perhaps one of the most iconic public transport vehicles in the world.
This handsome model is currently scheduled for release during April 2016 and will be a fantastic way to mark Corgiís 60th anniversary.
Photograph 1 CLICK HERE
Photograph 2 CLICK HERE
EFE ANNOUNCE A SECOND WAREHOUSE SALE
EFE have today announced a second warehouse sale. I received the following photograph and text from EFE this morning: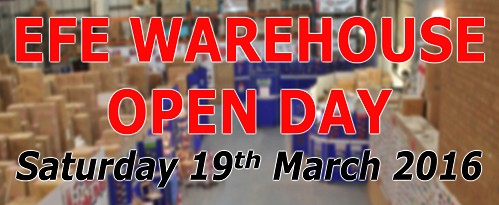 Due to the great popularity of our Open Warehouse Sale last November we have decided to repeat the event!
After last years event we received so much positive feedback and requests by those who were unable to attend, to host another event that we have decided to open our doors again, this time for a one day event, which should give our collectors another fabulous opportunity to grab a bargain or two!
EFE Warehouse Open Day -
Saturday 19th March 2016
Open to Everyone - Free Admission
Doors open at 10am - Last admission 3.30pm
Along with a sale of our stock models we will also have on display a selection of our fleet boards and the last of our 'damaged' 1:24th scale vehicles for sale at suitable prices plus our ever popular Scrap Yard will also be there for you to have a good rummage through!
Visitors will also be able to have a look around our print shop and view the intricate processes involved in decorating our models and the other commercial components we print for the UK manufacturing industry.
We will also be serving light refreshments at our Tuck Shop so you can grab a drink and a snack at very reasonable prices.
We look forward to welcoming you to our home!
Exclusive First Editions 32 Woodall Road, Enfield, EN3 4LG
We are located close to Ponders End Rail station on the main line between Liverpool Street, Tottenham Hale and Cambridge. See Google Maps Here
Bus Bus: The 191 bus stops at the bottom of our road and runs frequently between Edmonton Green, Southbury or Brimsdown railway stations.
By Train: We are located a short walk from Ponders End Railway Station, which gives access in to London Via Tottenham Hale and Liverpool Street Stations. However this line is subject to occasional line closures at weekends so please check in advance of travel.
By Car: There is plenty of Free Parking available around the site.
CLICK HERE to show a photograph of the Warehouse at the last event
OXFORD DIECAST DETAILS OF RECENTLY ANNOUNCED MODELS
Oxford Diecast have today sent me vehicle details for the models announced at the weekend:
NUT006 Guy Arab - Ribble
Fleet number: 2446
Registration number: ACK 873
Route number:10
Destination: Preston
NPP005 Panorama 1 - Sheffield United Tours
Fleet number: 374
Registration number: KWE374D
Route number: -
Destination: Lucerne
NLRT003 Leyland Royal Tiger - W Alexander - Same as 76LRT003
NIRZ003 Irizar PB - Ulsterbus Same as 76IRZ003
76RM111 Routemaster - Blackpool
Fleet number: RM1966
Registration number: ALD 966B
Route number: 40
Destination: PONTINS via Tower, Pleasure beach
76FDE014 Ford 400E - Maidstone & District - Same as FDE014
76LRT008 Leyland Royal Tiger - Standerwick
Fleet number: 126
Registration number: EFV 617
Route number: -
Destination: London
76OWB012 Bedford OWB - Warstone
Fleet number: 4
Registration number: GZ 2248
Route number: -
Destination: Blymhill
76PD2003 Leyland Titan PD2_12 - Southdown
Fleet number: 708H
Registration number: KUF 708
Route number: -
Destination: SOUTHSEA (South park) via Bognor Regis, Chichester, Emsworth, Havant, Portsmouth
Tuesday 26th January 2016